Airoli Bridge is a bridge in the Mumbai metropolitan area of India. It was constructed to establish a direct road link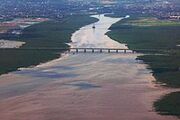 between Mumbai and Navi Mumbai. Constructed by Afcons Infrastructure Ltd and project executed by Subodh V. Kamat,the 1.03 km bridge marked the development of Airoli & Thane- Belapur belt.
A road link connecting Thane - Belapur road and Eastern Express Highway has been established by this bridge. This bridge forms a junction on Thane - Belapur road near Airoli and meets the intersection of Eastern Express Highwa y and Goregoan - Mulund link road in Mumbai.
This bridge is the second bridge connecting Mumbai to Navi Mumbai. The first Bridge Vashi Bridge connects the Navi Mumbai township of Vashi to Mankhurd .
Ad blocker interference detected!
Wikia is a free-to-use site that makes money from advertising. We have a modified experience for viewers using ad blockers

Wikia is not accessible if you've made further modifications. Remove the custom ad blocker rule(s) and the page will load as expected.