Bhandup
is a railway station on the
Central line
of the
Mumbai Suburban Railway
network. A few fast trains stop at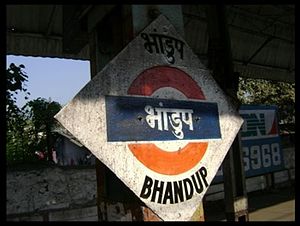 Bhandup station, mostly during the peak hours.
Bhandup's relationship with trains goes back to the very earliest times, for it was during a visit to Bhandup in 1843 that George Clark, Chief Engineer to the Bombay Government, first had the idea of linking Bombay to Thane by railway. The Great Indian Peninsula Railway Company ran its first train on 16 April 1853.
Ad blocker interference detected!
Wikia is a free-to-use site that makes money from advertising. We have a modified experience for viewers using ad blockers

Wikia is not accessible if you've made further modifications. Remove the custom ad blocker rule(s) and the page will load as expected.