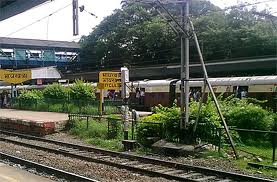 Byculla is railway station on the Central line and Harbour line of the Mumbai Suburban Railway . It is located in the neighbourhood of Byculla . Almost all the FAST trains halt at Byculla station both during peak hours and normal time.
Byculla was one of the original stations when the Bombay-Thane railway was inaugurated in April 1853. It had been built as a wooden structure the year before, but took on its current form in 1857. This makes the current building the oldest station in India .
Ad blocker interference detected!
Wikia is a free-to-use site that makes money from advertising. We have a modified experience for viewers using ad blockers

Wikia is not accessible if you've made further modifications. Remove the custom ad blocker rule(s) and the page will load as expected.