The Carter Road Promenade is a kilometre-long walkway along the sea on the west side of Bandra, a suburb of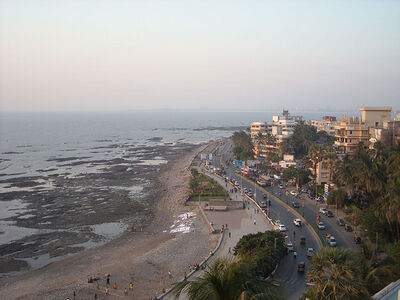 Mumbai , India. Less than a decade old, having been opened up for public in January 2002. It is simultaneously a popular hang out spot next to Bandstand Promenade , a jogging track , a park and also a lovers point. The promenade is managed by Bandra West Residents' Association.
Geography
Edit
Carter Road Promenade is located along the Arabian sea on the west side of Bandra , a highly coveted location for its coastlines, restaurants, pubs, and high-street stores. The walkway is 4,800 feet long with a small chess-board ground, a large gazebo, a vermicompost bed and solar and wind energy. The walkway was redeveloped in 2008 as part of the larger movement in the city of Mumbai to reclaim public spaces and to protect Mumbai's coastline.
Extension
Edit
After its makeover in 2009, the promenade now extends to Khar Danda . The plan of extension was proposed by Khar-Bandra-Santacruz Foundation. 
Ad blocker interference detected!
Wikia is a free-to-use site that makes money from advertising. We have a modified experience for viewers using ad blockers

Wikia is not accessible if you've made further modifications. Remove the custom ad blocker rule(s) and the page will load as expected.