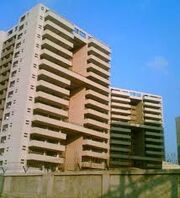 Chunabhatti (Marathi: चुनाभट्टी) is a suburb of Mumbai. It is located on the Eastern Express Highway. It is serviced 
by Chunabhatti railway station on the Harbour Line of the Mumbai Suburban Railway.
Chunabhatti (Chuna - lime, bhatti - kiln) is home to the first cotton mill in Mumbai, Swadeshi Mills, which was registered in 1886 by Jamshedji Tata.
Eventhough, it may not be a prime location to live in, the area does have a large number of inhabitants and surrounds the city's other areas such as Sion , Chembur (AKP) and Ghatkopar .
Ad blocker interference detected!
Wikia is a free-to-use site that makes money from advertising. We have a modified experience for viewers using ad blockers

Wikia is not accessible if you've made further modifications. Remove the custom ad blocker rule(s) and the page will load as expected.