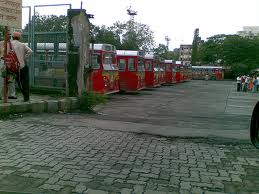 Dindoshi is a location in the suburb of Goregaon (E) and Malad (E), in Mumbai, India. The suburb houses the largest IT Park in Mumbai (Infinity IT Park), a 10 story tower block. There is a bus depot and a school which is Yashodham High School. There is Oberoi Mall located close to Dindoshi. And there is a society called Sankalp near Gokuldham mandir, which is a very popular area in Mumbai. The B.E.S.T. staff and officer's quarters is just besides the dindoshi bus depot . There is also north canara bank besides the dindoshi bus depot.
Ad blocker interference detected!
Wikia is a free-to-use site that makes money from advertising. We have a modified experience for viewers using ad blockers

Wikia is not accessible if you've made further modifications. Remove the custom ad blocker rule(s) and the page will load as expected.