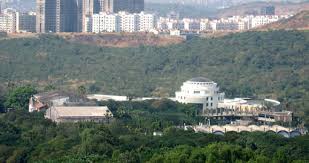 Film City is an integrated film studio complex situated near Sanjay Gandhi National Park at Goregaon, Mumbai in India. It has several recording rooms, gardens, lakes, theatres and grounds that serve as the venue of many Bollywood film shootings It was built by the state government to provide facilities and concessions to the film industry. It was renamed Dadasaheb Phalke Nagar in memory of the Marathi producer-director-screenwriter Dadasaheb Phalke who was father of Indian film industry.
Ad blocker interference detected!
Wikia is a free-to-use site that makes money from advertising. We have a modified experience for viewers using ad blockers

Wikia is not accessible if you've made further modifications. Remove the custom ad blocker rule(s) and the page will load as expected.