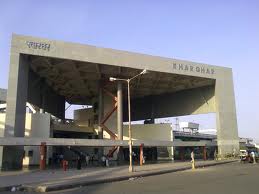 Kharghar is a railway station on the Harbour Line of the Mumbai Suburban Railway network. Local trains of the Harbour Line on the Central Railway ply between Kharghar and Chhatrapati Shivaji Terminus stations and the Western line is connected through the Wadala station.
It takes about 65 minutes to reach Kharghar by suburban train from Chhatrapati Shivaji Terminus . A new broad gauge line has connected Kharghar to Karjat via Panvel.
Ad blocker interference detected!
Wikia is a free-to-use site that makes money from advertising. We have a modified experience for viewers using ad blockers

Wikia is not accessible if you've made further modifications. Remove the custom ad blocker rule(s) and the page will load as expected.