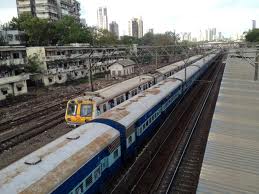 Mahalaxmi (Mahalakshmi,Marathi: महालक्ष्मी) is a railway station on the Western Line of the Mumbai Suburban Railway in Mahalaxmi , Mumbai . Trains starting from Churchgate pass through Mahalaxmi. Major landmarks in the area are the Mahalaxmi Temple , Haji Ali Dargah , Nehru Planetarium and Mahalaxmi Racecourse . Worli Seaface is also close from here. Byculla station of the Central Railway is the closest station. A workshop was established at Mahalaxmi in 1910 for the repair of wagons. In 1962 it was modified to work on carriages, and in 1976 it was adapted for Periodic Overhauls of EMUs.
Ad blocker interference detected!
Wikia is a free-to-use site that makes money from advertising. We have a modified experience for viewers using ad blockers

Wikia is not accessible if you've made further modifications. Remove the custom ad blocker rule(s) and the page will load as expected.