Matunga
is a railway station on the
Central line
of the
Mumbai Suburban Railway
network. It should not be confused with the nearby
Matunga Road railway station
on the
Western Line
.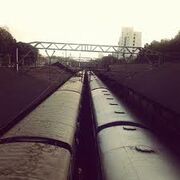 The Carriage Repair Workshop was built in 1915 in the area between the tracks of the Western and Central Lines. It was set up as a repair workshop for coaches and wagons of the Great Indian Peninsular Railway. It now carries out Periodical Overhaul (POH) and heavy corrosion repairs of main line and EMU coaches; in 2009/10 it attended 3182 coaches. In 2011 it had 7719 staff.The neighbouring station of Matunga Road experienced terrorist bombings in 1993 and 2006 which were often described as being at "Matunga station".
Ad blocker interference detected!
Wikia is a free-to-use site that makes money from advertising. We have a modified experience for viewers using ad blockers

Wikia is not accessible if you've made further modifications. Remove the custom ad blocker rule(s) and the page will load as expected.