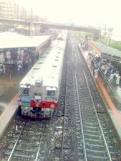 Mira Road is a railway station on the Western line of the Mumbai Suburban Railway network.
The Western Railways is planning to widen platforms at the station. It has placed work orders to create more space on the narrow fast-train platform 4 at Nala Sopara and also at Mira Road that is linked to the skywalk. The project cost is about 72 lakh and the work will be completed by July 2012.
Ad blocker interference detected!
Wikia is a free-to-use site that makes money from advertising. We have a modified experience for viewers using ad blockers

Wikia is not accessible if you've made further modifications. Remove the custom ad blocker rule(s) and the page will load as expected.