Ad blocker interference detected!
Wikia is a free-to-use site that makes money from advertising. We have a modified experience for viewers using ad blockers

Wikia is not accessible if you've made further modifications. Remove the custom ad blocker rule(s) and the page will load as expected.
Project Introduction: The Mumbai metro is a rapid transit system being developed by both the PPP (Public-Private Partnership) and EPC models. Line 1 and Line 2 are being developed with Reliance as the consortium head while Line 3 is going to be developed by an implementation agency called MMRC whose role is similar to the DMRC in the Delhi Metro project. Phase I
Code: Line # Route Length(Kms) Stations Special Purpose Vehicle
Line 1 Versova - Andheri - Ghatkopar   11.4         12      Mumbai Metro One  Pvt. Ltd.
Line 2 Charkop - Bandra - Mankhurd     32           27      Mumbai Metro Transport Pvt. Ltd.
Line 3 SEEPZ - BKC - Colaba            33           25      Mumbai Metro Rail Corporation

Line 1 Versova-Andheri-Ghatkopar - 11.4 Kms - Under Construction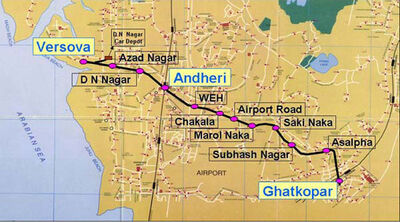 1) GENERAL
o Journey time: 21 minutes o Frequency: 3.5 minutes, going down to 3 minutes during peak hours o Fares # (2003-2004 level) + Rs. 6 upto 3 Kms. + Rs. 8 between 3 Kms.to 8 Kms. + Rs. 10 beyond 8 Kms.
# Fares indicated are for 2003-2004 level and shall be revised @ 11% every fourth year (rounded off to the nearest rupee). Fares shall be fixed by Government of Maharashtra, through a notification.
Line 2 Charkop - Bandra - Mankhurd - 32 Kms - Approved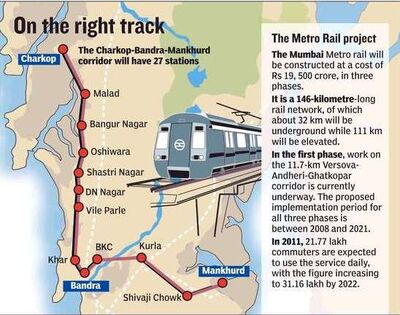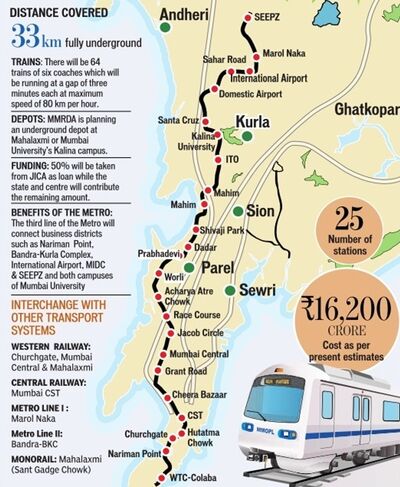 Line 3 SEEPZ - BKC -
Colaba/Cuffe Parade - 33 Kms - Planning stage