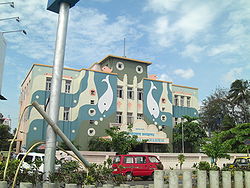 Taraporewala Aquarium is an aquarium in the city of Mumbai, India. Built in 1951 at a cost of Rs 800,000, it hosts marine and freshwater fishes. The aquarium is located on the famous Marine Drive. The aquarium is named after a Parsee who donated Rs. 200,000 for the construction.
There are 100 species of marine and fresh water fish including seven types of coral fish from the Lakshadweep Islands. Attractions include sharks, turtles, rays, moray eels, sea turtles, small starfish and stingrays. Exhibits offer a glimpse of the variety of marine life in the Arabian Sea and Indian Ocean. There is also a room with fossils and preserved fish in bottles, along with rare sea shells.
Ad blocker interference detected!
Wikia is a free-to-use site that makes money from advertising. We have a modified experience for viewers using ad blockers

Wikia is not accessible if you've made further modifications. Remove the custom ad blocker rule(s) and the page will load as expected.